A new generation of PaaS platforms
Alauda EE is a new generation of PaaS platform based on container technology and DevOps as the concept of micro-service application. Full integration of Kubernetes, and deep support for the SpringCloud micro-service framework.
Help customers realize infrastructure cloud, application architecture modernization and development process agility.

An overview of the Alauda EE PaaS platform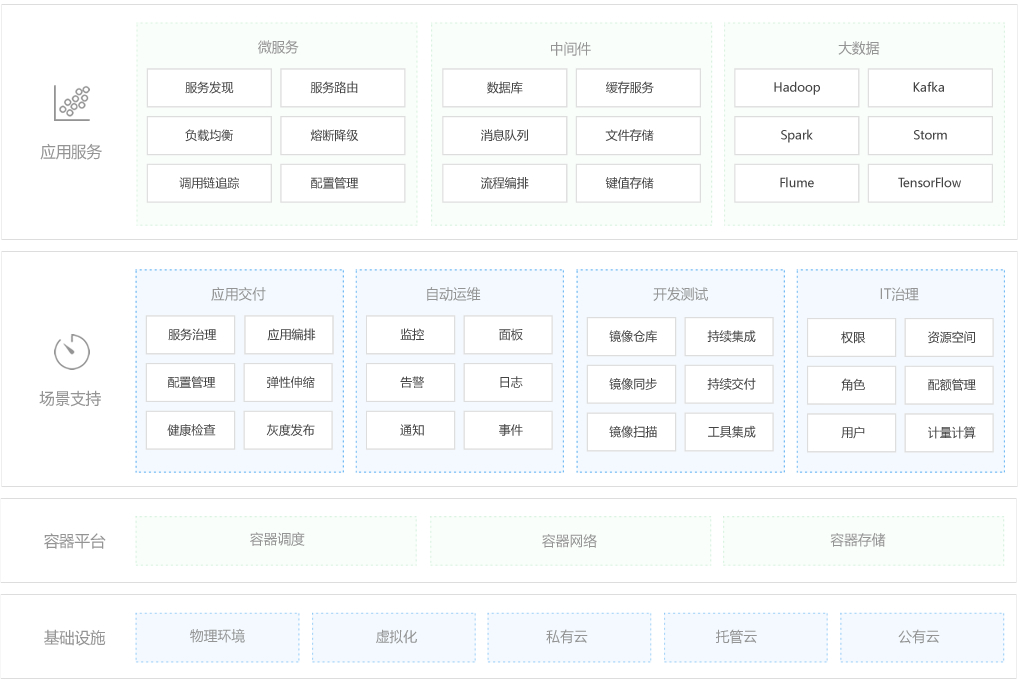 Platform infrastructure
Fully integrated Kubernetes, upgrade existing infrastructure to a new generation of container cloud platform
Unified management of heterogeneous infrastructure

Enterprise Kubernetes

Robust network and storage solutions

Deep integration with mainstream infrastructure
Agile application delivery
Take DevOps as the concept, and continuously bring high quality and valuable application to market
Continuous integration and continuous delivery

Enterprise image center

Flexible integration enterprise tool chain

Multiple publishing strategies
Enterprise service directory
Common technology middleware is managed, service output, easy to consume, free of operation and maintenance, customizable
Apache ZooKeeper

Apche kafka

Elasticsearch

ELK Stack

Mysql

Redis
Automated operation and maintenance management
Multi-dimensional, omni-directional digital management, improve the quality of operation and maintenance, reduce the cost of operation and maintenance
Multi-level, multidimensional index monitoring

Customize the monitoring panel

One-stop log platform

Diversity alarm strategy
Service-oriented IT governance
Close to the enterprise scene, empower enterprise IT and build self-service IT governance capability
Enterprise multi-tenant support

Connect the enterprise account system

Fine-grained permission management

Resource management and security audit
Intelligent data value
Flexible big data infrastructure platform to help enterprises to dig up data value and acquire continuous intelligence
Batch Processing

Hadoop

HBase

Spark

Stream Processing
Cloud native and micro-service architecture
Deep support for SpringCloud micro-service framework, smooth migration based on SpringCloud's micro-service application
Config Server

Eureka

Hystrix Dashboard

Turbine

Zipkin

Zuul